The real name for consumer court in India is actually consumer forum.  Well, that takes a load off my chest!  We want to use the right term called consumer forum but if that causes any confusion among people then the purpose will be defeated.  So from now on I will be referring to consumer forum and consumer court as one and the same thing.
Note: Find in this article a format/template/sample of consumer forum complaint.
Update 30 Sep 2016: Get my free eBook Surviving the Legal Jungle which also covers basics of contract law, consumer court complaints, and how to hire and manage an advocate.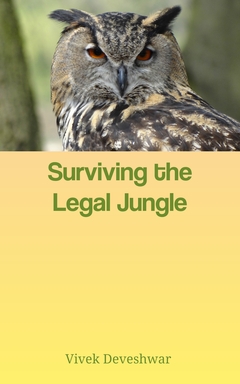 I have not written any new content for a long time.  The posts about RTI generate good amount of visitors and some of them contact me regarding filing RTI, so I hope it is doing some good somewhere.
---
You must read the easier solutions before contacting me about consumer court complaint
Update 6th Jul 2014: Please read this post to decide first whether you need to file a consumer complaint or there are easier alternatives by way of making complaint first on government sponsored consumer help sites.
Answer: No.  Please go back and read it.  This article is meant to handle more serious consumer issues which can't be resolved by simpler techniques.
Answer: Yes.  And have you already tried those solutions?  Or you don't think your case can be resolved by those?  This means your case should be serious enough and it can't be fixed by simpler techniques like online complaint at government of India portals for consumers, complaint to banking ombudsman etc.  If so, read the full article below (and the comments) on how to file complaint to consumer court in India.
Update on 22-Sep-2014:
Did you try filing online complaint at National Consumer Helpline or call their national toll free 1800-11-4000?
Answer: No. Filing consumer complaint is more laborious than filling an online complaint or making a phone call.  So my sincere advice don't waste anymore of your time reading what follows, unless you are sure they cannot help you in anyway.
National consumer helpline works!  They are a govt website/toll-free number to help consumers resolve their consumer related issues.  I have recently filed 2 complaints with them online and both the times the website worked without issues (unlike http://core.nic.in).  I even received callback from them and they gave suggestion on how to proceed on my complaint against Deccan Herald.  How many times has it happened in your life that a govt department called you back?  Achche din aa gaye 🙂
OR call their National Toll Free No 1800-11-4000
Update 27-Oct-2016: From feedback from others, it seems NCH is mostly about guiding people about how to go about filing consumer court complaint after sending a written notice to the opposite party/company.  So if you have already sent written/email notice/warning to company and that didn't result in any solution to the problem, you might as well go ahead with steps on how to file consumer complaint in this article.  The information given in this article is much more detailed than what NCH will provide.
Phew… with all of that out of the way, original post continues below:
---
I have decided to start writing on consumer issues, simply because I am at my wits end with never ending bad and malafide behaviour by all sorts of companies like Airtel, Tata Sky, Flipkart and so on. I have a new name for Indian Consumer: 'Prisoner'! Because that is how these companies treat their customers hoping that they won't or can't hit back and they have no choice but to keep getting oppressed and continue to remain their valuable customer/prisoner.  I had recently filed 2 consumer court cases in Bangalore and won both of them.  Well almost, because although I have got the favourable order in the second one against Flipkart, they haven't paid their dues so I will have to file for execution which is another legal step.  Which is why I feel the time has come to shame and expose these naked emperors and continue doing it as and when they choose to become our oppressors.  In last few days, I had to deal with a new issue by another internet company and so I thought why not use the power of web and social media to keep them on their toes, rather than sound like a hapless consumer/goat who they seem to believe is merely squealing at them.  Now hear me roar!
So my plan for this post is just to outline the basic steps on how to file a consumer forum complaint, and I will use fresh posts to expose and warn about any new tricks being employed by various companies.  I will also post the scans of consumer forum orders I have won already.  The posts will remain permanently on this site so just like visitors coming to read RTI posts, there will be visitors coming to these posts too.  I plan to use Facebook to give updates on new posts.  As long as I stick to the facts, these companies will have no recourse but to suck it up since it I am saying the truth and not unjustifiably defaming them.  They have the choice to treat the customer as customer and not prisoner, or let their names keep getting added to the hall of shame.  One fundamental reason for these posts is that from now I plan to send links to these posts to any new companies who try to get smart and treat me as their prisoner.  I am sick and tired of trying to make myself sound serious to them and they better start taking it seriously than empty threats.
Consumer Tip: It has been my experience that companies are quite sensitive to any negative feedback posted as a webpage article, be it your own website or even a consumer oriented website, e.g. http://www.mouthshut.com.  After posting separate negative reviews about Pepperfry and Infibeam and informing them, I was able to get the required refunds (although for Pepperfry I could not get the full shipping costs).
So if you have stayed with me so far, either you are a true consumer fanatic, or maybe I write/rant too well.  In any case, stay with this post for a little while more because here come the steps on how to file a consumer forum complaint (the points below are mentioned how I did it in Bangalore, apart from that it is all generic and should work in all other district forums too):
1. If subject matter of complaint is less than Rs 20,00,000 (20 lakh rupees), then you need to file in District consumer forum which is what follows in this post.  The fees to be paid is Rs 100 for up to Rs 1 lakh of (value of goods/services + compensation) demanded.  Refer to this post for fees to be paid for other compensation amounts and also for compensation amounts which are higher than 20 lakhs and jurisdiction of higher level forums than district forum.
2. Write or get printed the complaint matter on a plain piece of paper with all the details.  There is no need to go to a lawyer for minor complaints since consumer forum in Bangalore is quite friendly and if you can write your points, that is all there is to it.  There are many templates available on various websites, you can use them. You need to address the complaint to the official address of the company within Bangalore and this can be found from their website. If they have a branch address in Bangalore then you should use it. If they do not have a branch address mentioned on website, then use address of whichever corporate office is in charge of Bangalore/Karnataka.
3. There is another point about some sites saying that one has to file an affidavit, many sites will call it as verifying affidavit.  Actually, I haven't found it to be necessary in 1 case (against Panasonic) which got settled out of court but in another case against Flipkart I had to file a single page affidavit (I insisted to file a single page than repeat the same facts all over again) just referring to the original complaint. You can file it along with original complaint if you choose to. It has to be notarized so it is a proof that you are who you claim to be and you are filing this complaint in your sane mind, which may not be so sane after being at receiving end of today's prisoner-takers err… companies. Note that the original complaint does not need to be notarized. I had done it for first complaint against Panasonic, but then realized that it is required for the accompanying 1 page affidavit, not for the complaint itself. So the whole process is much less complex than made out to be on various websites which tend to make it seem like an elaborate legal affair.
4. Sign the complaint and get 4 copies of the original complaint.  You can call the Bangalore consumer forum number at +918022211137 about any queries you may have about filing and they seem to be quite helpful. Remember what they say is the real deal compared to what's written on a website, and it is they who will accept the complaint and give the acknowledgement. Their full address below:
Bangalore Urban District Forum,
Cauvery Bhavan, 8th Floor, BWSSB Wing, Kempe Gowda Road, Bangalore-560009
Telefax
080-22211137
The proper entrance using vehicle to above building is from K G Road which is one way so you have to basically turn right to enter the building. There is a walk able passage at the back of this building from the nearby city civil courts too in case you ended up parking there.
5. Get a demand draft (DD) of Rs 100 made in favour of The president, Bangalore Urban District Consumer Forum which is basically the fees for filing complaints with matter value less than Rs 100,000
6. You will have to provide Rs 40 worth stamps on an envelope with address of OP at time of submitting the complaint. It can actually be done after the first hearing also since that's when the notices are actually sent but I prefer to get it done right away at time of submission. This same envelope is used by consumer forum to send a copy of complaint to the OP. The Rs 40 is probably the current cost of RPAD (Registered Post Acknowledgement Due) in Bangalore so confirm this at time of filing and paste the right amount of stamps at submission time.
7. Submit the complaint at address above and get the acknowledgement. They will enter it in a register and will provide the court case number in few days. On one occasion, I had got the this court case number over the phone and in another case I was asked to come to same office get the number.
8. Along with the case number you will be asked to go to a particular district consumer forum on the said date and be there by 11 am when the court starts. Basically there are multiple district forums within Bangalore and my guess is their workload is divided based on complainant's address because both of my cases got scheduled in the 3rd Additional consumer forum on Cunningham Road.
Usually the first hearing will be scheduled within few days so plan to file the complaint when you are not going out of town in next couple of weeks else you could miss the first hearing. It happened with me and I was told that if I miss the second one too then the matter will get closed.
9. On first hearing, the judge will ask you about the complaint to find out whether it is in jurisdiction of Bangalore forum and whether it seems prima facie genuine. With that formality done, they will give you a date after 30 days to give sufficient time to OP (opposite party) to get the summons/copy of complaint and appear.
10. On second hearing, the OP will appear or maybe not appear. If they don't appear, then court will ask to come next time and if they still don't come then you can argue your case and judge will give the order next time the OP being deemed as ex-parte, which is legal term for a party to which summons/notice was sent, they got the summons but choose to not appear in proceedings.
11. Alternatively, the OP may decide to settle it out of court with you if it is a no-win situation for them. In that case, if both of you agree then you can get your compensation from OP and appear in front of judge to say that you have both agreed to settle it out of court. The court will ask both parties to sign the order to same effect. The court is not concerned to what exactly is the details of your settlement, it will merely record that the parties have settled the case amicably between themselves.
12. In case the OP appears, they will submit a written objection etc stating their position and facts according to them. The judges will hear both sides' arguments and decide the case based on who seems to have the evidence on their favour.
For me the situation that the OP appeared and argued has not arisen. They either settled out of court or chose to not appear. Hear me pat myself on the back!
I will post more material like sample templates etc in next few posts. The final point is that the cases are decided based on hard evidence so if you have all of that then it is not difficult to win. If you do not have hard evidence like contract terms, email exchanges, proper invoices, warranty cards etc, screen shots of website with order details/date etc.; then it could become a longer affair where you have to decide whether filing a consumer case is at all useful. So the most important thing is always to have a written trail of complaint and interactions done with the company in question. Which is why I never report any complaint over the phone because I believe that will not provide you with any sufficient written document trail for later use. And is it any surprise that most companies want you to call them displaying prominently their toll free or helpline numbers! You call them once and you will end up calling them 10 times after that. So no thank you, I always prefer to open a complaint via website, or by email to their customer support and keep a detailed written trail thereafter.
Format/sample/template of consumer court complaint for Bangalore
You can find the format/sample/template of consumer court complaint for Bangalore in this later post. For non-Bangalore complaints too, it can be used by replacing the forum name/address at beginning of complaint.
After you file a complaint, you can contact me over phone to discuss about progress of the case, what to expect in court, how to handle court hearings etc.  Use Contact link on top to get in touch.
Questions and my replies related to consumer issues and consumer complaints
There are lot of interesting consumer related questions and my replies to them in various comments below.  Most of the time your issue may be discussed already, so it is strongly advised to spend some time going through these comments.
LATEST Questions and Replies: https://deveshwar.in/how-file-consumer-court-complaint-bangalore/#comments
You can keep clicking on Older Comments link to go to previous comments on each page.  Now that the number of comments has increased, it is not very productive to link to each comment page and expect people to read through each of them to find if their problem is already discussed.  So I have added google custom search box on top.
Just type the brand name, e.g., Samsung, BSNL, Airtel etc in the search box to find if a particular company has already been discussed.
To search for product, type "led tv" or "broadband connection" (without quotes) in the google search box and then zero in to the result.  As it stands, it links to the main post and not the exact comment and that's how google search provides the results.  So after that you may have to page up/down through comments.
To ask a question, post it in the comment box and you will automatically receive reply by email when I reply to the comment — usually within 24 hours.  I now only reply to queries asked via comment box since they are useful to others too facing similar issues. For that reason even if the person hasn't done basic homework I may still reply.
Only for serious cases or those with privacy concerns like medical cases etc, you can use Contact form which will send email to me and I will reply back.  To make it very clear: if you use Contact form to email me about your new mobile phone not working as expected, I will simply delete such emails.  Almost all the time I have seen people don't even do the basic homework of reading the terms and conditions, but somehow expect me to solve their issue for them!
Further stages after consumer case is filed, and admitted in forum
Stages in consumer forum case:
Filing: This article covers this stage in detail already above.
Admission: This is first hearing when case may be accepted, or even rejected if it lacks merit, or consumer forum jurisdiction is not applicable.
Objections by OP
Evidence by way of affidavit by complainant
Evidence by way of affidavit by OP
Arguments
Orders/Judgment
Evidence by way of Affidavit by complainant
Following is word .doc format of an affidavit which allows one to use already made points in complaint, and also add additional points, along with additional documents as annexures.  Click on link below to download and modify it for your own case details.
Consumer_Forum_Affidavit_Sample_Template
After that you need sign and get it notarized (ideally it should be signed in front of notary and you should carry a govt approved identity card like voter id/passport/aadhaar to prove your identity to notary, even if usually notaries don't ask for id card).  It which may cost Rs 20-50 depending on number of pages and notary.   It will be cheaper if you find a notary working inside any court complex.